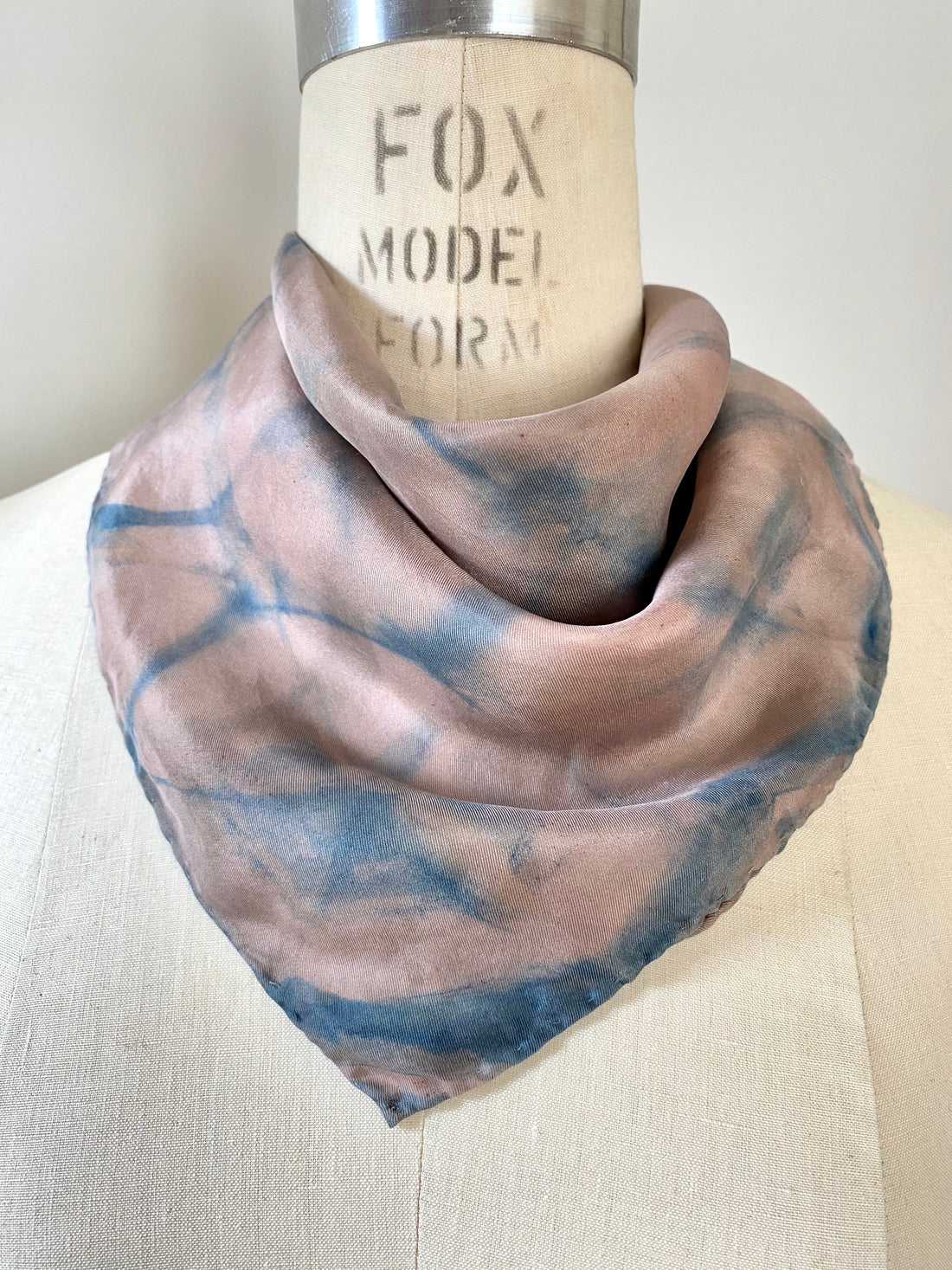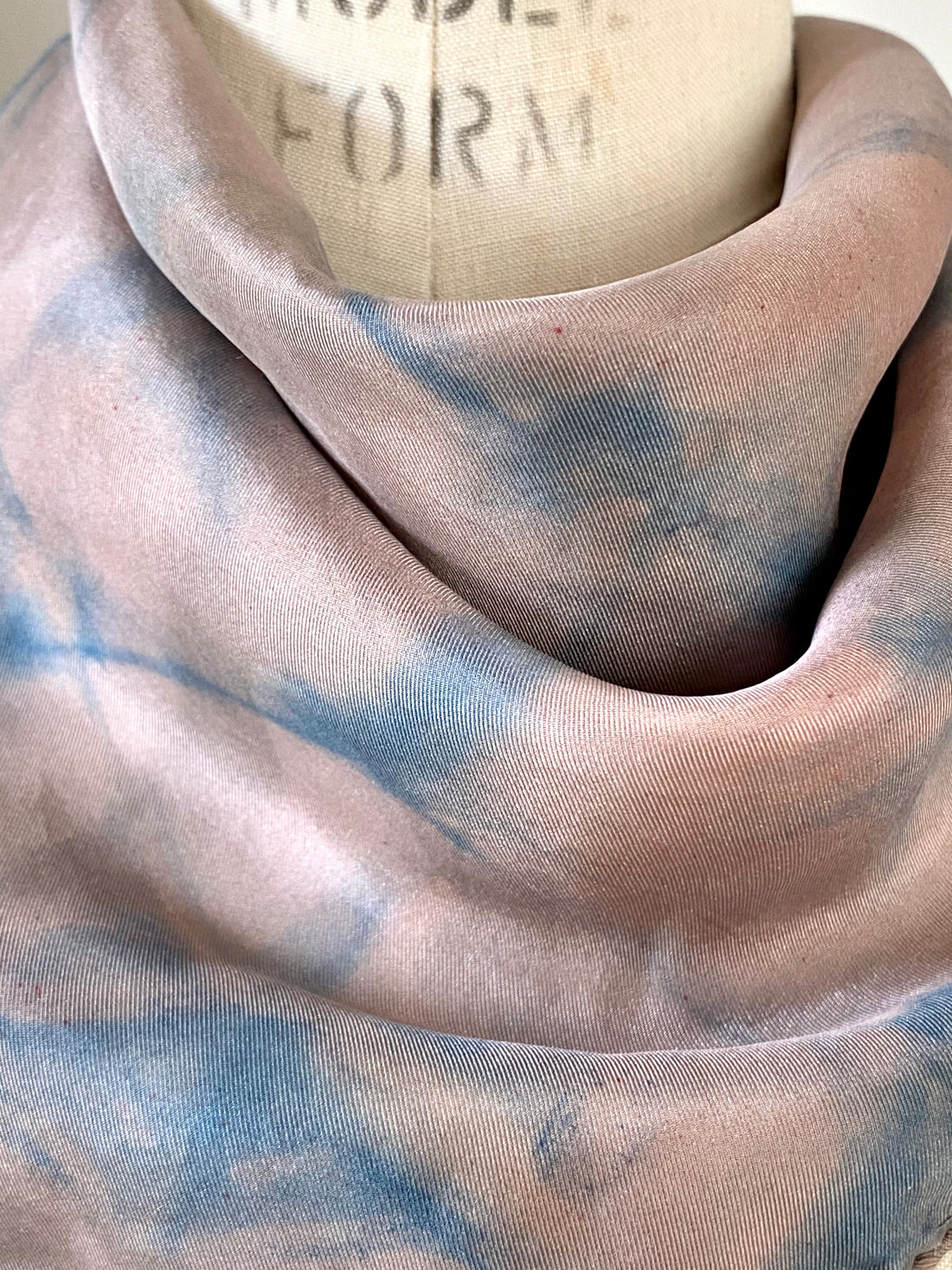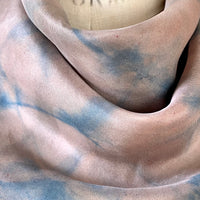 Square Silk Scarf in Pink - Natural Dyes - Hand Rolled Edges
Feel like a total trendsetter in this stunningly soft, hand-dyed silk scarf. Handcrafted with love right here in Northern California - using two beautiful dye colors of indigo and madder.
Whether you choose the 17" x17' or 22"x22' size – it's sure to be an eye catching addition to your outfit!
Plus, easy care instructions make caring for your new accessory stress free: just gentle hand wash and hang dry – no need for extra trips to the dry cleaner. Make heads turn at each special occasion when wearing this made-to-order masterpiece.
* Dimensions: 17" x 17" or 22" x 22"
* 100% silk
* Botanically dyed using indigo and madder.
* Care: Hand wash, hang dry. No dry cleaning
Care For Your Modern Shibori Clothing
With proper care, your hand-dyed Modern Shibori clothing will last you a lifetime. You might even hand it down to a loved one, unless they take it first ;-)
We preshrink all of our garments after the process of hand dyeing. You won't need to worry about shrinkage if you tumble dry on low or hang dry.
Don't worry, the shibori designs won't fall out in the wash. Read more about what shibori is and how the designs are made.
Cotton, Hemp and Linen Clothing
Machine Wash Cold
Every Modern Shibori garment holds up very well if you machine wash them with cold water. It's proven to effectively clean clothing and make them last longer than washing in hot water, while saving up to 80% of the energy used to wash clothes. Wash with similar colors. Hang to dry either on a hanger or a clothing rack. Never use bleach. Dry cleaning is never recommended for naturally dyed clothing. The chemicals are very harsh.
Exception: Linen Scarves Need To Be Hand Washed
The only piece that absolutely needs to be hand washed is the linen scarf. Because this scarf is a very fine, loose construction, you need to hand wash. Fill a sink with cold water. Add a tablespoon of delicate soap. We recommend a brand like Method for eco-friendly soap. Place the scarf into the water, gently swish it around for a few minutes. Drain and refill the sink with clean, cold water, rinsing your scarf by swirling it around once more. Gently press the garment to remove excess water, but be careful to not wring or twist. Reshape the garment on a dry towel, roll up the towel while pressing, to help get rid of excess water. Finally, reshape the scarf and lay it flat on a drying rack to air dry. 
To Dry, No Ironing Necessary
Line dry or tumble dry low. If you have my organic cotton flannel or sweats, try putting them on fresh out of the dryer, you won't regret it. If your garment has a collar or placket, flatten them as the garment dries. Ironing isn't necessary as we use high quality organic fabrics, which makes them ideal for travel.
Silk Clothing and Scarves
Hand Wash Or Machine Wash In A Lingerie Bag
Hand wash with mild soap like baby shampoo with lukewarm water. Or machine wash in a mesh bag on gentle. Never use bleach. Add a few drops of hair conditioner for an extra silky feel. Dry cleaning not recommended.
Line Dry
Gently press the garment to remove excess water, but be careful to not wring or twist. Reshape the garment on a dry towel, roll up the towel while pressing, to help get rid of excess water. Finally, reshape the scarf and lay it flat on a drying rack to air dry.
Iron
Sometimes silk scarves need a quick touch up with an iron. Always iron on the matte, not shiny side on a low setting.
Cashmere and Wool
Hand Wash
Hand wash or spot clean using mild eco-friendly soap like Method. Place your piece into the water, gently sink it into the sink or tub. Soak for two hours before removing the garment. Do not agitate. Rinse out your piece until there are no more soapy bubbles.
Press out excess water with a clean towel. Do not wring the garment. Be careful to not wring or twist. Reshape the garment on a dry towel, roll up the towel while pressing, to help get rid of excess water. Finally, reshape the piece and lay it flat on a drying rack to air dry.
Cashmere or wool can be dry cleaned but hand washing will make it softer over time. You don't need to wash cashmere or wool that often.
If you have any questions, contact us at
jenny@modernshibori.com
. We'll answer within 48 hours.
As a sustainable fashion brand, sustainability in our production processes is super important to us and to our customers.
We reexamine and finesse our manufacturing process to mind our carbon footprint and our environmental impact. We're willing to discuss our micro supply chain transparency and ethical practices. It's important for us to rise up against the fast fashion industry. Read on to learn about the Modern Shibori clothing brand and its sustainable practices:
1. Organic Fabrics for eco-fashion and sustainable clothing
We use GOTS-certified natural fibers such as organic cotton, organic linen, and OEKO-TEX Mulberry silk in our supply chain. GOTS-certified fabrics ensure that no harmful chemicals, toxins, or synthetic fertilizers are leached into the ground, reducing harmful environmental impact. Read more about the natural fibers in our fabrics. Curious why organic cotton clothing matters for you and the planet?
2. Water Conservation to lessen our impact on the environment
We use low amounts of water as our pieces are made one at a time. We reuse natural dye vats until they're fully exhausted. There are no toxic chemicals used and we're very conscious of our environmental footprint.
3. Recycled fabrics and Upcycled Materials in our supply chain
We use eco conscious packaging that's made from recycled material, and is sometimes compostable. We also save our upcycled and recycled fabrics to make jackets and tote bags out of these materials. 
Read more about the sustainable benefits of upcycling clothing and why it's a great sustainable fashion movement.
4. Lifecycle of a Slow Fashion Garment
As a sustainable fashion brand, we're very concerned about the life cycle of a garment and encourage our customers to keep their garments and recycled fabrics in use and out of landfill, reducing their impact on the environment. We also support consuming fashion with social and environmental concerns at the forefront.
5. No Micro Plastics, fight fast fashion brands
We never use synthetic fiber reactive dyes or synthetic fabrics. We only use natural materials in our garments, reducing our environmental impact.
6. Low Carbon Footprint and Supply Chain Transparency
Our supply chain is hyper-local focused in the SF Bay Area, keeping our carbon emissions per garment as low as possible and our dollars invested in our local economy. We support a carbon-neutral fashion industry.
7. Hyper Local Supply Chain to Produce Clothing
Jenny Fong sketches, designs, and upcycles all her garments in Berkeley, CA. 
8. Slow Fashion Industry
We are a Fibershed Supporter and a member of the Sustainable Fashion Alliance. We are very conscious of our social and environmental impact and our customers appreciate our ethical practices. Modern Shibori leads with a conscious environmental perspective first whether making decisions around fashion production, using innovative materials, sustainable fibers, workers earning fair wages, moving towards circular fashion.
Please check back again as we discover more and implement even more sustainable practices and ways to reduce our environmental impact as a brand.
Wondering what shibori is? and how the designs are made? Check out our blog.
Free shipping on orders $125.00 and up. Flat rate shipping $9.95.
We ship via USPS First Class or UPS unless otherwise requested. Holiday shipping is within 3 days if possible.
Most pieces are made to order. Made-to-order usually ships between 2 - 3 weeks. If an item is Ready To Ship, those will ship in 2 - 4 days.
If you have an urgent need, please reach out via email. I can work within your schedule if possible.